Combined Heat and Power - Hotel and Estate
Novalux have installed a variety of different renewable projects including Waste-to-Energy heat and power systems, solar PV, biomass boilers, Organic Rankine Cycle (ORC) and WID compliant biomass boilers.
To date, Novalux have installed over 110 projects for multinational companies and small businesses alike. The technologies which Novalux installs benefit our customers businesses and finances, whilst helping the environment. The example project below demonstrates figures based on project variables. If you'd like to get more accurate returns based on a project suitable for your site submit the form below.
The Estate was using large amounts of electricity and gas due to having multiple facilities including a 130 room hotel with leisure centre attached.
Novalux designed a bespoke system comprised of a 3.5MWth Sugimat thermal oil boiler and 700kWe Turboden Organic Rankine Cycle. The system is fuelled with end of life straw bales, used on the motor circuit during the a festival in addition to waste wood produced from activities on site.
The combined heat and power system will replace fossil fuel use in the estate house, hotel and leisure centre whilst helping the business to make savings on their waste removal, gas and electricity bills.
Novalux specialises in the installation of bespoke renewable energy systems, designed to provide solutions for excess waste within your business.
As the systems we install utilise end of life materials as fuel, producing your own heat and power on site can make a positive financial impact on your business whilst benefitting the environment.
CapEx: £5.5m
RHI Income PA: £896,000
Heat & Power Savings PA: £625,000
Payback: 5 years
ROI: 27%
A Recycling Site Processing 5 Tonnes of RDF Per Hour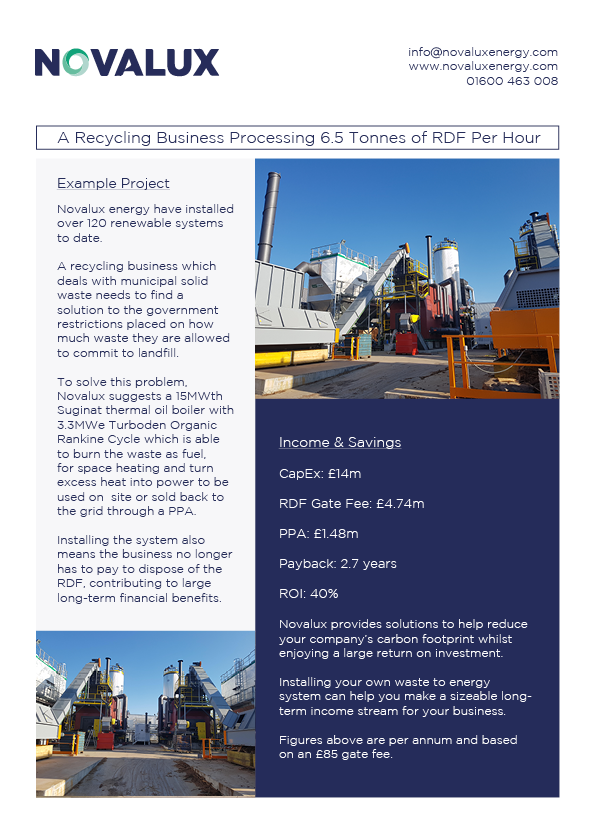 A Recycling Site Processing 6.5 Tonnes of RDF Per Hour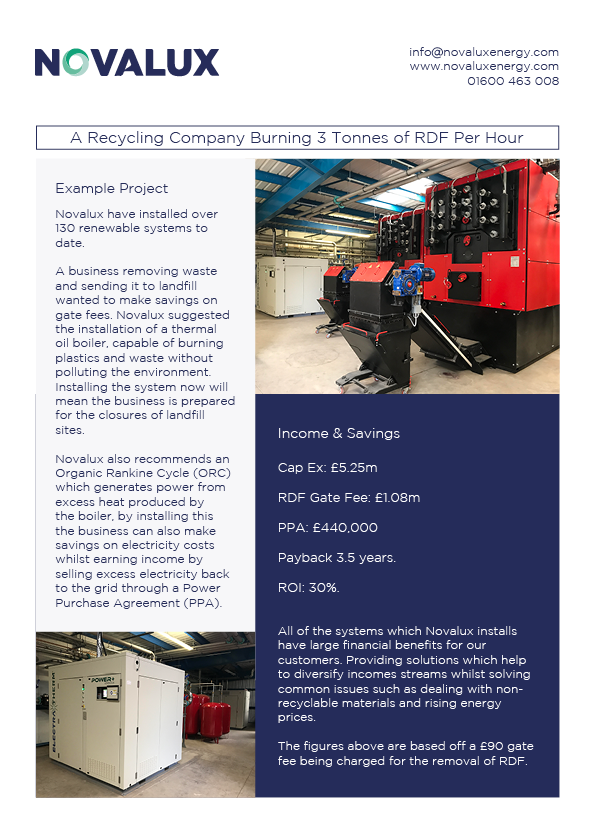 A Recycling Site Processing 3 Tonnes of RDF Per Hour
Whether you'd like to book a site survey or you're unsure about which technology is right for your business, our team can help.