A Multinational Pallet Company Burning Waste Wood
Novalux have installed a variety of different renewable projects including Waste-to-Energy heat and power systems, solar PV, biomass boilers, Organic Rankine Cycle (ORC) and WID compliant biomass boilers.
To date, Novalux have installed over 110 projects for multinational companies and small businesses alike. The technologies which Novalux installs benefit our customers businesses and finances, whilst helping the environment. The example project below demonstrates figures based on project variables. If you'd like to get more accurate returns based on a project suitable for your site submit the form below.
A global pallet company was looking for a cost-effective way to dispose of their pallets which contained paint and metal nails. The business also needed to run large electric paint dryers which was a significant part of their energy bill.
Novalux installed a 2MWth waste wood boiler and 120kWe Organic Rankine Cycle (ORC). As the boiler could burn waste wood, the pallets could be used as fuel to provide process and space heating for the factory.
Excess heat from the biomass boiler is used to generate power through the ORC which can be used on site or sold to the grid through a Power Purchase Agreement.
Novalux installs sustainable energy systems which utilise waste as fuel, meaning your business can benefit from a sustainable long-term energy source.
All of the systems Novalux installs are designed to meet your businesses needs and have significant financial benefits whilst achieving carbon neutrality.
CapEx: £1.45m
RHI Income: PA: 420,000
Heat & Power Savings: £417,000
Payback: 3.1 years
ROI: 35%
A Recycling Site Processing 5 Tonnes of RDF Per Hour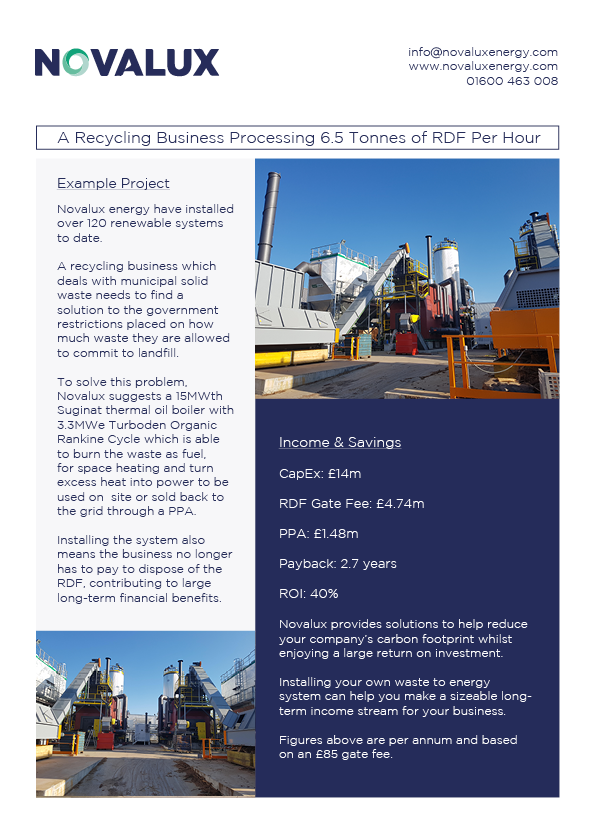 A Recycling Site Processing 6.5 Tonnes of RDF Per Hour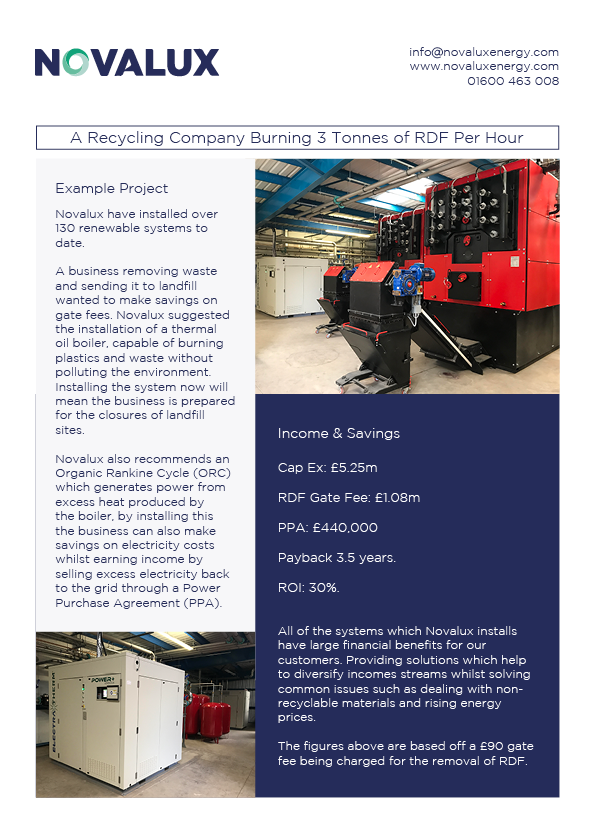 A Recycling Site Processing 3 Tonnes of RDF Per Hour
Whether you'd like to book a site survey or you're unsure about which technology is right for your business, our team can help.