A Recycling Company Fuelling with 3 Tonnes of RDF Per Hour
Novalux have installed a variety of different renewable projects including Waste-to-Energy heat and power systems, solar PV, biomass boilers, Organic Rankine Cycle (ORC) and WID compliant biomass boilers.
To date, Novalux have installed over 110 projects for multinational companies and small businesses alike. The technologies which Novalux installs benefit our customers businesses and finances, whilst helping the environment. The example project below demonstrates figures based on project variables. If you'd like to get more accurate returns based on a project suitable for your site submit the form below.
A business removing waste and sending it to landfill wanted to make savings on gate fees. Novalux suggested the installation of a 8MWth Sugimat thermal oil boiler, capable of burning plastics and waste without polluting the environment. Installing the system now will mean the business is prepared for the closures of landfill sites.
Novalux also recommends a 2MWe Turboden Organic Rankine Cycle (ORC) which generates power from excess heat produced by the boiler, by installing this the business can also make savings on electricity costs whilst earning income from selling excess electricity back to the grid through a Power Purchase Agreement (PPA).
All of the systems which Novalux installs have large financial benefits for our customers. Providing solutions which help to diversify incomes streams whilst solving common issues such as dealing with non-recyclable materials and rising energy prices.
The figures below are based on a £100 gate fee being charged for the removal of RDF.
CapEx: £8.7m
RDF Gate Fee: £1.85m
PPA: £771,200
Payback 3.2 years
ROI: 30%
A Recycling Site Processing 5 Tonnes of RDF Per Hour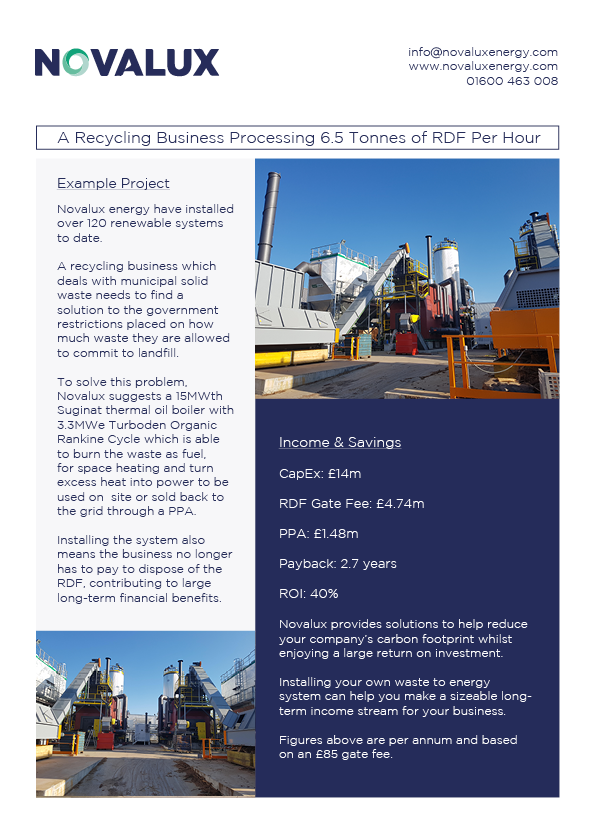 A Recycling Site Processing 6.5 Tonnes of RDF Per Hour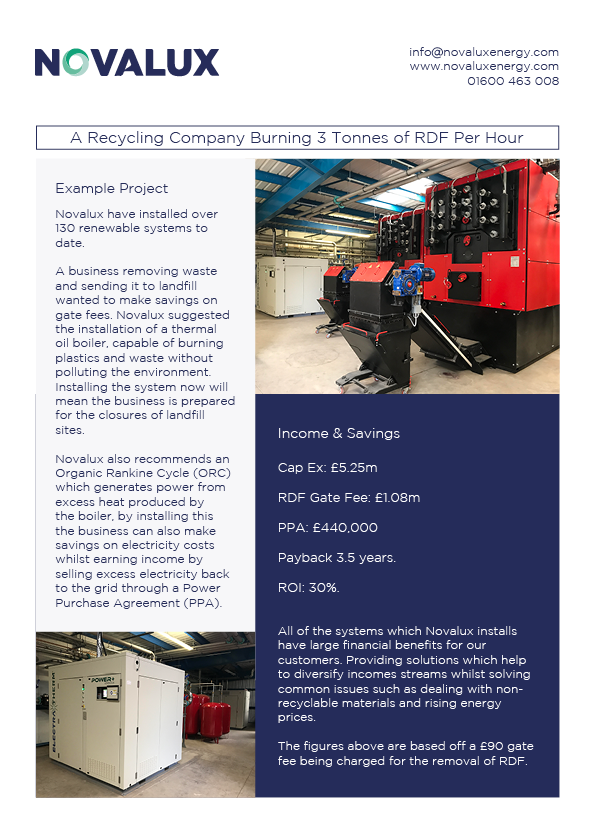 A Recycling Site Processing 3 Tonnes of RDF Per Hour
Whether you'd like to book a site survey or you're unsure about which technology is right for your business, our team can help.