A Recycling Site Processing 10 Tonnes of RDF Per Hour
Novalux have installed a variety of different renewable projects including Waste-to-Energy heat and power systems, solar PV, biomass boilers, Organic Rankine Cycle (ORC) and WID compliant biomass boilers.
To date, Novalux have installed over 110 projects for multinational companies and small businesses alike. The technologies which Novalux installs benefit our customers businesses and finances, whilst helping the environment. The example project below demonstrates figures based on project variables. If you'd like to get more accurate returns based on a project suitable for your site submit the form below.
A large recycling business is looking to utilise the Municipal Solid Waste (MSW) which they send to landfill every day.
As Energy Recovery Facilities (ERF) are now available on a smaller, distributed scale, Novalux recommend that they install a 24MWth Sugimat thermal oil boiler and 6.5MWe Turboden Organic Rankine Cycle (ORC). The business owner can then use the MSW as fuel to generate heat and electricity which can be used on site or sold back to the grid through a power purchase agreement (PPA).
Due to the rising cost of disposal this facility allows the site owner to make savings and secure a long term use for the waste.
Novalux provides solutions to help reduce your company's carbon footprint whilst enjoying a large return on investment.
Waste to energy can help you make a sizeable long-term income stream for your business. Figures below are per annum and based on an £70 gate fee.
CapEx: £20.5m
RDF Gate Fee: £4.5m
PPA: £2.3m
Payback: 3.6 years
ROI: 30%
A Recycling Site Processing 5 Tonnes of RDF Per Hour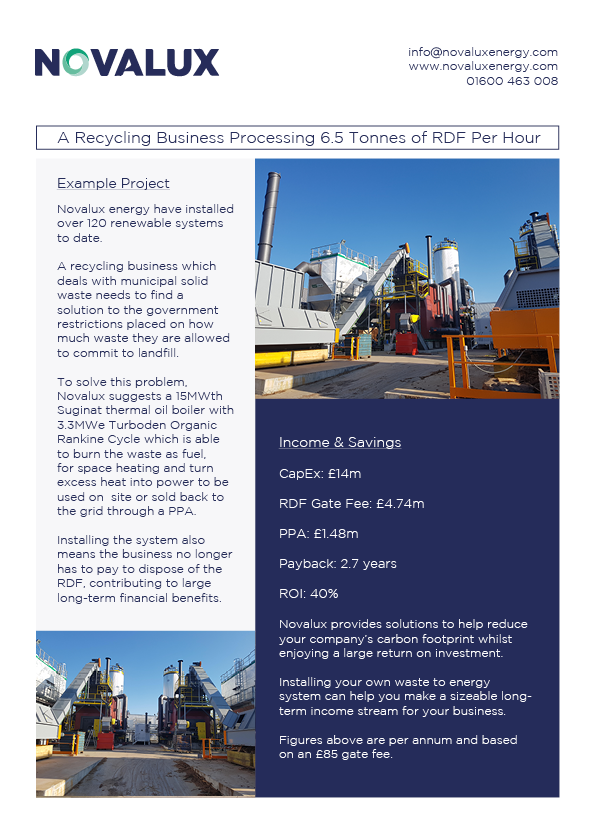 A Recycling Site Processing 6.5 Tonnes of RDF Per Hour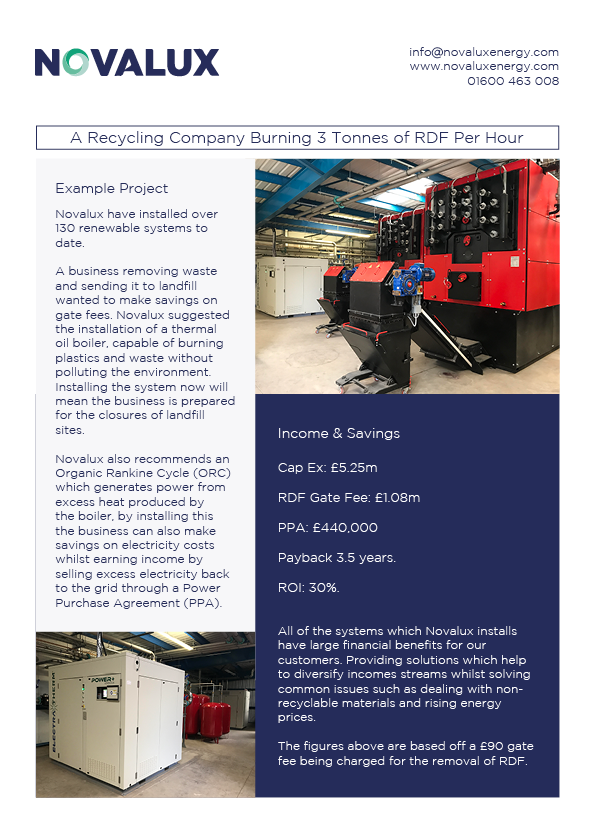 A Recycling Site Processing 3 Tonnes of RDF Per Hour
Whether you'd like to book a site survey or you're unsure about which technology is right for your business, our team can help.